Skip to Content
Durable Concrete Flooring Solutions
Wisconsin Concrete Coatings was born through a shared desire to find a better concrete solution. One that would withstand the daily wear and tear of vehicles, lawnmowers, salt, and harsh winter weather. Our team has a background in concrete, and during their years of work, they noticed a need for a concrete coating that could take a beating and still hold up. That's where the idea for Wisconsin Concrete Coatings took root, and it's grown to be a successful business serving Waukesha, Dane, Columbia and Jefferson counties and the city of Madison. We run the business' daily operations and are backed by a team of qualified installers. We're ready to help you install a new floor coating at your home or business.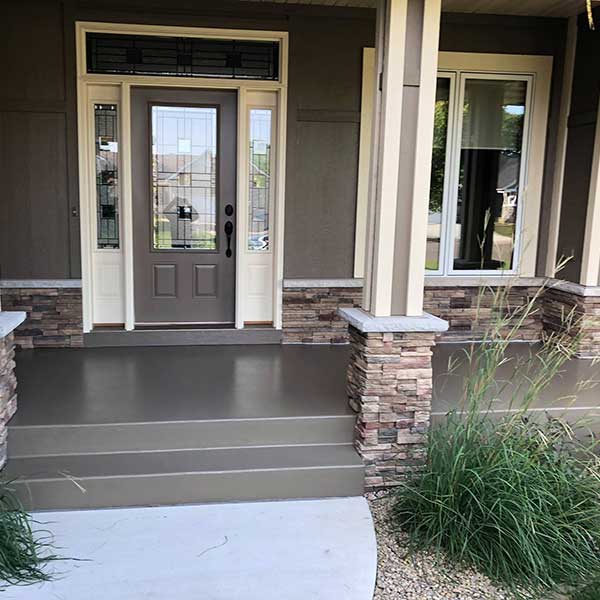 Why Business & Homeowners Choose Us for Concrete Floors
Wisconsin Concrete Coatings is the premier concrete flooring professional in the area. Home and business owners choose us for a high-quality concrete flooring solution. Our knowledgeable and experienced team of professionals can help you maximize unused space within your home or office with concrete flooring options. Learn more about why we're the number one choice for concrete flooring installation.
Customizable – Our concrete flooring options are available in over a dozen different color options. Choose the right concrete flooring color to match your space and design.
Reliable – Most concrete floors can be installed in as little as one day. As a local leader, you can always trust us to arrive at your home or office on time. Our professionals have years of experience working with high-quality materials.
Long-Lasting – We follow a thorough preparation process to ensure proper adhesion to your floors. Our team uses high-quality products and the right equipment for long-lasting, durable results that look fantastic.
Same-Day Concrete Flooring Installation
Concrete floors are an excellent way to increase the usable space in your home or office. Wisconsin Concrete Coatings offers concrete flooring installation and polishing services. By combining our thorough preparation and high-quality products, we will deliver a final product that is durable and looks amazing. As Wisconsin's local leader in concrete flooring installation, home and business owners rely on us for the very best services at a competitive price. Contact our team today to schedule your consultation.
Expand Your Living Space
Your Decorative Concrete Floor Installation Experts